Snow Removal and Plowing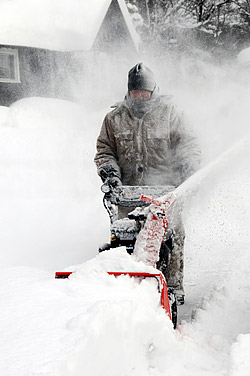 The winters in Pewaukee, Brown Deer, Menomonee Falls, Hartland and the surrounding areas, can be quite severe with snowstorms hitting the region in the winter months. It means you have to deal with icy & snow-blocked roads. What's probably even more frustrating is that even your property will be covered with snow; and there could be times when you are unable to get out of your front door, to get to work.
All of this can be very frustrating, to say the least. And clearing snow from the landscaping or even a portion of it is no mean feat. Even clearing your driveway of the snow can be a tedious and time-consuming task. This is where we at Frankfurth & Associates come in. We are one of the leading snow removal companies in the region and have a large number of long-standing customers across Waukesha, Brookfield, Richfield, Wauwatosa, New Berlin, and Germantown too.
Our customers know that with us on call, they have peace of mind that skilled snow plowing professionals will help them out of their quandary within the shortest time. We are very prompt with our response, and precise and thorough in our working. Our snow removal team works efficiently and quickly clears your property of the accumulated snow and ice. We can handle large-scale snow clearing jobs as efficiently and expertly as smaller ones.
Why Customers Choose us for Snow Plowing
We have use the latest technology in our work and the most advanced snow clearing machines and other equipment. However, these will be used only to clear the larger amounts of snow. When it comes to clearing narrower walkways, paths and other spaces where decorative outdoor features are located, we use manual snow clearing methods. We are the preferred snow plowing professionals because:
We are fully-insured- This means, in the event that any accidental damage occurs during the course of the work, our client's interests are protected.
Expertly trained- All our personnel are expertly trained and undergo regular training. They are all local to the area and can get to your location quickly, soon after we receive your call.
Safety and professionalism- We never compromise on safety and always take extra steps to ensure that the features on your property aren't damaged in the course of the work.
Eco-friendly snow clearing materials- Even as we are highly focused on ensuring that all the snow gets completely cleared from your property, we are mindful of the environment and use only eco-friendly snow removal supplies and processes in our work.
If you ever need standard or emergency snow plowing and snow removal services, we are here to help. While we are highly efficient and quick, we also maintain very reasonable snow removal cost, so hiring our services won't burn a hole in your pocket.
For more information, free consultation, estimate & references, please call Frankfurth & Associates at this number-262-246-9009. You can also reach us via regular mail or email. We look forward to hearing from you. You can also send us your project requirements via this page and request a free estimate.
We Provide Services to the Following Cities, Towns and Surrounding Regions of WI: