Natural Stone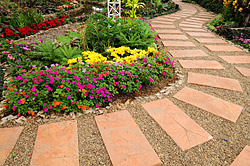 If you are looking to add a classic and elegant feel to your outdoor living space, making use of natural stone can give you that and more. This material never fails to provide a unique look to any structure, plus, it is durable enough to keep your outdoors beautiful for a very long time. Although it may seem like an expensive option for homeowners, this material is actually a lot more affordable considering that it is long-lasting and requires very minimal care and maintenance.
Frankfurth Landscaping is the leading name in Wisconsin when it comes to providing you with outdoor structures built with stones. Not only do we pride ourselves in installing flawless interlocking pavers, we also provide expert installation of stone-finished structures. Upon completion, we guarantee your property timeless beauty out of our creations.
Versatility in Style and Function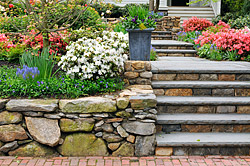 When it comes to designing your outdoors, there are many areas where you could incorporate natural stone materials. They are so versatile that they can be used in almost any structure or feature without looking out of place. Additionally, they help enhance or maximize the function of the actual feature they are used in. Here are the most common outdoor areas where they could be applied:
Patios
Decks
Driveways
Pathways or walks
Steps
Outdoor kitchens
Fire features
Water features
Retaining walls
Types of Natural Stone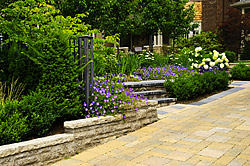 There are different natural stone types, but not all can be used for outdoor structures. The most common is granite. It is a sturdy stone material that is great for outdoor kitchen countertops, retaining walls, and other features that require masonry. It features great colors and design and it can be finished to a high shine, making it easy to clean and maintain. Marble, although commonly used for interior structures, can also be used outdoors. It, however, would need a special finish or coating to keep it protected from outdoor elements and pollution.
Another natural stone that we commonly use is limestone. It comes in a variety of looks and colors because of the various organic elements that are embedded on it. Limestone tiles are great for use on pathways or walkways as well as on patios, especially those with curves or bends because the material is very easy to manipulate. Flagstone is another recommended type of stone for landscaping. It is a heavy stone material which is usually flat, making it an ideal material for pathways, driveways, patios, and decks. It usually comes in a variety of colors. The most popular choices are off-white, blue, light pink, gray, and rustic brown.
Natural Stone Design and Installation Services
Frankfurth Landscaping provides high quality and creative designs and installation services so you could achieve optimized beauty and elegance in your outdoor living space. Our reliable source of natural stone makes it possible for us to handle any type of project for both residential and commercial properties, no matter how big or small. We encourage you to get in touch with us or visit our office at Sussex, Wisconsin so we could give you more information on our landscaping materials and the services that we offer.
We Provide Services to the Following Cities, Towns and Surrounding Regions of WI: