BBQ's / Pizza Ovens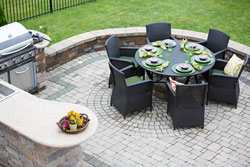 The outdoor spaces on a property aren't just about softscaping and hardscaping. A number of other features such as outdoor kitchens, decks, patios etc go into making the area more usable. Many of our customers in and around Pewaukee, Brown Deer, Menomonee Falls, and Hartland have chosen to get BBQs and Pizza Ovens installed on their property.
These installations add to the functionality of these outdoor spaces, and give you the opportunity to create entertainment spaces where you can rest and enjoy with your family and friends. As highly experienced outdoor designers, Frankfurth & Associates is a company that has been blazing trails in the industry for more than 20 years now.
In this time, we have handled scores of landscaping projects, big and small and have a large number of customers in and around Waukesha, Brookfield, Richfield, Wauwatosa, New Berlin, and Germantown as well.
All-Round BBQ Installation Services
Most of our customers ask us for natural stone pizza oven installations on their deck or patio spaces. At times this installation is part of a larger landscape project. However, we have also handled many jobs where this installation has been a standalone one. In the case of the latter, we are extra careful with the design and finish and focus on creating features that complement the look of the existing elements in the landscaping.
We have a team of highly-skilled and experienced designers that can incorporate outdoor BBQ grills into the kitchen plans at the outset. We provide comprehensive services that include conceptualization, consultation, design and installation. We are the experts that go the extra mile to create designs that will be unique and stunning, and a true value-add to your landscape. Even as we focus on all these things, we maintain very reasonable Pizza Oven pricing.
Outdoor BBQ Plans
While it may seem like installing a Pizza Oven or a BBQ is a pretty straightforward job, the fact is, it's also a very specialized one. There are a number of aspects we focus on:
The size of the installation – this has to be in proportion to the size of the outdoor kitchen.
The design and styling of the concrete pizza oven- if you like, we can also clad this with natural stone veneer; this will lend it a very elegant look
These features will have to be fed with some form of fuel and it's important to be very careful with the gas plumbing or electrical installations.
Apart from that, the placement of these elements is very important too. It has to be positioned close to the seating space in the outdoor kitchen, but not so close that smoke from the grills will make the area uncomfortable to sit in.
We ensure that the BBQs and gas grills are made from weather-resistant materials, as they are exposed to the outdoors
Regardless of what the scale of the job is, we handle it in an expert and meticulous manner. For more information, free consultation, an estimate & references, please call Frankfurth & Associates at this number-262-246-9009. You can also reach us via regular mail or email. We look forward to hearing from you. You can also send us your project requirements via this page and request a free estimate.
We Provide Services to the Following Cities, Towns and Surrounding Regions of WI: