Decks and Woodwork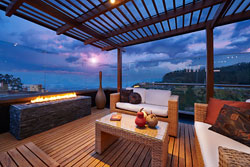 Anyone who has checked online for deck design ideas will find there are a number of decking materials to choose from such as aluminum, composites, pressure-treated lumber, hardwoods such as Cedar and Redwood and exotic tropical hardwoods including assaranduba, cumaru, tigerwood, red tauari, ipe and Philippine mahogany etc.
We at Frankfurth & Associates have been operating in the landscaping space for over 20 years now. In this time we have seen that despite all the new materials that have been launched for deck construction, most of our clients in and around Pewaukee, Brown Deer, Menomonee Falls, Hartland prefer timber decks. In fact, even in the recent past, we have completed a number of timber deck design& installation projects for customers in and around Waukesha, Brookfield, Richfield, Wauwatosa, New Berlin, and Germantown.
Why Choose Timber Decking?
There are a number of reasons why wood is the preferred material for deck building:
Durability - This is probably one of the main reasons property owners opt for timber decks. With appropriate and regular maintenance, they can last for decades.
Aesthetics - Different properties are styled differently and are built in varying architectural styles. This also means, when the owners decide to install any features like outdoor decks, they would have to look for materials that complement the look of their home. Timber is a classic material and it blends in perfectly with modernistic as well as traditional style homes.
Ease of maintenance - As long as you invest in high quality, hardwood decking, you won't have too much trouble with maintaining them. Though these wood species are susceptible to moisture and mold and mildew growth, they are also naturally weather-resistant. As long as they are sanded, polished and sealed every couple of years, they will stay in a good condition for a very long time. The only other thing that's required is regular sweeping.
Value addition - Adding a timber deck to your property, adds to its value and if you do decide to sell the house, you will be able to get a higher resale value for it.
As you can see, there are a number of benefits to opting for a timber deck on your residential property.
Range of Outdoor Woodwork Solutions
We are a company that provides end-to-end deck design and outdoor woodwork solutions. As part of the latter, we can build:
Beams and columns
Wooden partitions
Pergolas and arbors
Fences
Seating
Garden features
Bridges across water features
Bar leaners
Outdoor kitchen cabinets
BBQ or picnic tables
Other
High Grade Landscape Woodwork Solutions
Regardless of the high-quality decking and outdoor woodwork materials you opt for, it's important that the workmanship be top of the line too. And this is what you are assured of when you hire our services. You will also find that our timber deck cost is very reasonable and it will fit perfectly into your budget.
For more information, free consultation, estimate & references, please call Frankfurth & Associates at this number-262-246-9009. You can also reach us via regular mail or email. We look forward to hearing from you. You can also send us your project requirements via this page and request a free estimate.
We Provide Services to the Following Cities, Towns and Surrounding Regions of WI: