Outdoor Lighting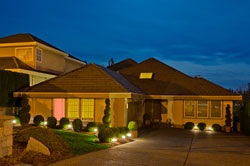 Landscapes are an amalgamation of a variety of elements such as softscaping, hardscaping, woodwork, custom stonework, water features etc. While property owners across Pewaukee, Brown Deer, Menomonee Falls, Hartland focus on all these aspects when they are getting their gardens and yards designed, many tend to overlook the importance of exterior lighting and the role it plays in overall landscape design planning.
We at Frankfurth & Associates are one of the leading outdoor lighting companies in the region. With over 20 years of experience behind us, we are proud to say that customers from across Waukesha, Brookfield, Richfield, Wauwatosa, New Berlin, and Germantown etc, now prefer to hire only us for all their landscaping requirements.
We know from experience that no matter how stunning the landscape design, and no matter how tasteful the outdoor elements on your property are, if they don't have appropriate landscape lighting, your garden and yard will only end up looking dull and lack-luster after dark.
Types of Outdoor Lights
Regardless of which way you look at it- outdoor lighting has a very important role to play in any landscape. As experienced and highly skilled designers, we make outdoor lighting plans an integral part of our landscape projects. There are a range of outdoor lighting fixtures to choose from, such as:
Garden lamp posts
Lights for columns & decorative pillars
Lights for retaining walls
Pathway and driveway lamps
Outdoor kitchen lights
Lighting for garden steps
Exterior building lights
Lights that are trained on various decorative elements in your garden
Lighting for fountains, ponds & waterfalls
Paver lights
Other
Our designers work very closely with you to understand what your specific ideas for these spaces are. They will also take into consideration which outdoor features you want highlighted in the landscaping. For instance, you might have a decade-old, beautifully structured tree on your property that you want to accentuate. It is these special touches that help create a stunning and almost ethereal effect on your property.
Benefits of Outdoor Lighting
There are some distinct advantages to opting for outdoor lighting on your residential property:
Adds to the security aspect, as a well-illuminated property acts as a deterrent for burglars, trespassers, vandals etc.
Your yard and garden becomes a safer place for your kids and pets to play in.
You are more encouraged to use well-lit outdoor spaces.
It adds to the curb appeal and value of your property.
We also know that having so many lights on your property can escalate your energy bills. And so, even as we keep the outdoor lighting cost in view, we also focus on using energy-efficient outdoor lighting and other sensor-driven security lights and dimmable outdoor LED lights, in our projects. This helps keep your utility bills at manageable levels, without having to settle for poorly-lit outdoor spaces.
For more information, custom outdoor lighting plans, free consultation, estimate & references, please call Frankfurth & Associates at this number-262-246-9009. You can also reach us via regular mail or email. We look forward to hearing from you. You can also send us your project requirements via this page and request a free estimate.
We Provide Services to the Following Cities, Towns and Surrounding Regions of WI: